Tim Draper Leads $4 Million Pre-Series A Round for EtherMail, the Web3 Email Leader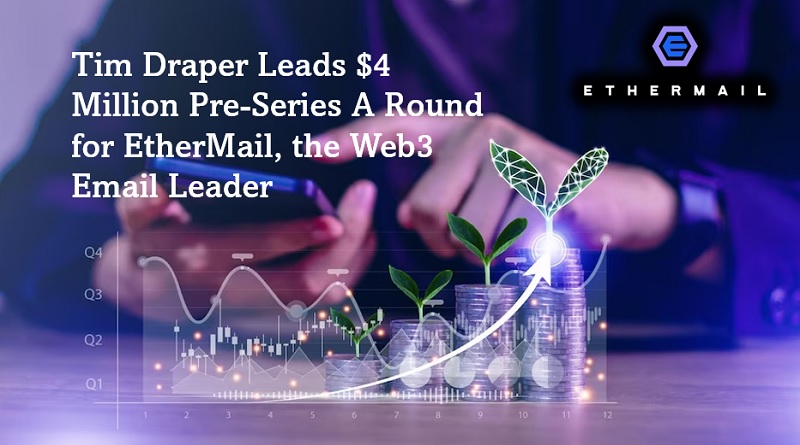 EtherMail, the first Web3 messaging solution that sets the standard for anonymous, wallet-to-wallet encrypted communication, has successfully raised US$4 million in a pre-Series A funding round led by Tim Draper and Draper Associates, a global venture capital firm that invests in the industry, leads the way. – company transformation. This round also involved MS&AD Ventures.
This funding will be used to drive recruitment and further market expansion while accelerating the deployment of EtherMail SSO (Single Sign On Solution) and AMS (Ad Market Solution) as well as Custom protection for email users to filter spam and monetize. rewards for receiving domestic promotional emails.
Since the end of a $3.3 million seed round in August 2022, EtherMail has seen rapid growth in user engagement with over 500,000 users and has partnered with popular NFT projects like Maybe Nothing, Toxic Skulls Club, inBetweeners and Prime Planet. EtherMail's Web3 messaging solution also facilitates Web3 voting for Decrypt Studios' inaugural Crypties Awards 2022 with over 10,000 attendees – the industry's leading annual awards initiative electronic money. Most recently, EtherMail announced integrations with ENS (Ethereum Name Service) and Draper-powered Unstoppable Domains, extending the reach of the Web3 mail solution to millions of UD and ENS users already registered.
With four generations of investment professionals, Draper Associates has cemented its reputation as a leader in early-stage venture capital, having invested in a range of well-known brands such as Hotmail, EtherScan, Skype, Coinbase, Baidu, Tesla, SpaceX and Twitch.
MS&AD Ventures invests in cutting-edge startups in AI, Big Data, Cybersecurity, Fintech, Insurtech, SaaS, Infrastructure and Digital well-being, with deployment trends from "smart money" " to next-generation solutions that align with changing market trends and Asian market accessibility. MS&AD Ventures is backed by MS&AD Insurance Group Holdings, the world's fifth-largest insurance group and the largest in Asia.
"Today's announcement represents a significant seal of approval for our Web3 email solution from one of the world's foremost tech investment visionaries. Draper Associates has an unrivaled track record when it comes to backing early-stage industry disruptors, and we're proud to join the likes of Tesla, SpaceX and our partners Unstoppable Domains as Draper-backed innovators. Additionally, the support of MS&AD will be invaluable as we continue our Asian expansion, setting the standard for anonymous and encrypted wallet-to-wallet communication."

Shant Kevonian

, CEO and Founder of EtherMail.
"Securing funding from investors the caliber of Draper Associates and MS&AD is a huge moment for EtherMail, and follows a rich phase of early market validation from our growing list of top-tier industry partners. As our development roadmap switches into high gear, we will have ample financial runway to execute and expedite our global expansion prior to our planned token launch."

Gerald Heydenreich

, Founder of EtherMail.
"The EtherMail team has quickly established a dominant market position at the forefront of Web3 email innovation, underpinned by a firm understanding of evolving Web3 market dynamics. With an expanding partnership network, exciting set of integrations with prominent Web3 platforms, and comprehensive product roadmap on the horizon, the company is gearing up for a massive growth trajectory in 2023 and beyond."

Tim Draper

, Founding Partner of Draper Associates.
"EtherMail has developed a category-leading solution that is already providing significant value to Web3 companies across the industry spectrum. We are firmly aligned with the EtherMail vision to redefine the dynamics of email economics with its native utility token EMT, and see EtherMail playing an integral role in incentivizing Web2 users to join the Web3 space. We look forward to helping the team with its ongoing Asian expansion in the months ahead."

Jon Soberg

, Managing Partner at MS&AD Ventures.