IDC's Adaptive Customer Engagement Model Replaces the Marketing-Sales "Funnel"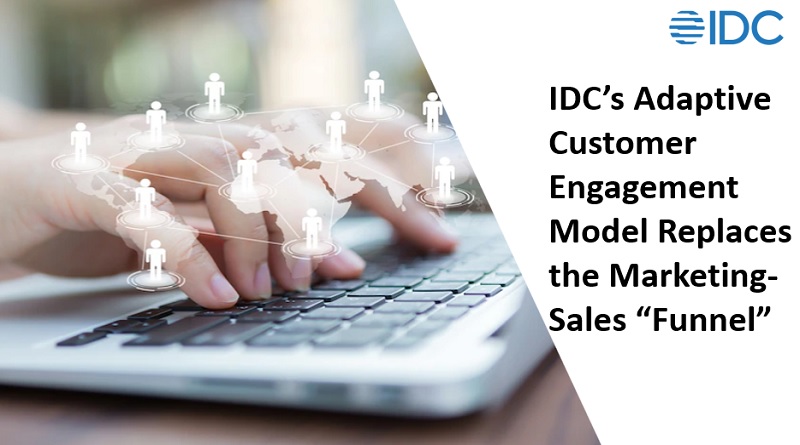 International Data Corporation (IDC) has charted the significant changes in the B2B buyer's journey over the past decade. Buyers fully engage with multiple digital channels and sources of information with the expectation of a more intimate B2C experience. Meanwhile, B2B marketers face increasing complexity as the number of people they need to attract, influence, and nurture in highly relevant and contextual ways. In this environment, the linear, funnel-shaped operating model used by marketing and sales can no longer achieve the desired results. To attract digitally-driven, modern B2B buyers, organizations need to transform their culture and organization to a new model – an adaptive customer interaction model.
"The current marketing and sales operating model fails in customer centricity and perpetuates the challenge B2B marketing and sales leaders face in a digital-first era — to establish relevancy, nurture, and build relationships among a growing number of influential individuals in a buying committee,"

"Marketers have struggled to meet the desired content and experience delivery for a better part of a decade. No longer can marketing and sales operate within a linear buyer decisioning model or continue to create disconnected acts of content and interpersonal dialogue. It is critical that marketing steps in to orchestrate and adaptively deliver the best content at the right time and right place."

Laurie Buczek, vice president, CMO Advisory Service at IDC.
A recent IDC report introduces the Adaptive Customer Engagement (ACE) model and describes how it addresses the needs of B2B buyers, digital-first, impacted by experience their shared experience with suppliers and people who expect a high degree of personalization. The ACE model does not rely on procedural movement from one stage to the next in the buyer's journey. Instead, the buyer – or more precisely the multitude of characters in the buyer group – can move in any direction, to any part of the model. It's the supplier's job to interact with customers on their terms, no matter where they are. By pinpointing a buyer's current needs, sellers can locate, or even automate, the right human or digital resources to meet those needs. The essential components of the ACE model are agility and adaptability, while the focus is on four key areas of interaction:
Buyer target: Buyers expect suppliers to deliver the right information and experiences in the context, when and how they need it. And they desire an ongoing and rewarding relationship. To meet these expectations, marketers must implement a methodology that guides buyers to solve business challenges, measure value, and achieve business results. This requires a richer, more personalized, and more closely coordinated content strategy to facilitate the buying and after-sales journey, building loyalty to retain customers. their goods.
compare to: The key to the ACE model is highly personalized content and connected interactions throughout the journey. Emerging technologies allow marketers to more precisely cater to "ideal customers" individuals and purchasing groups throughout their lifecycle. A powerful combination of enterprise-grade customer data, digital analytics, artificial intelligence, insights, and automation enables marketing to curate the right content, the right channel, at the right time.
Adaptive interactions: Buyers obtain information and resources from multiple sources at different times and have different preferences regarding the type and format of information. IDC research shows that shoppers want an always-on digital experience with a properly integrated human touch throughout their journey. Harnessing the power of data, analytics, and automation in an adaptive trigger layer will enable marketers to truly orchestrate personalized experiences with content tailored to each person and stage of the journey. submit. Seller goal:
One of the biggest changes in the ACE model is the way marketing and sales interact and work together. Marketing teams can deploy digital intelligence and insights into customer behavior to alert sales teams at checkout about changes in a cohort or individual performance, requiring matching sales staff to speed up the buying decision process.