AppLovin Unveils Most Effective, Performance-Driven Mobile Ad Trends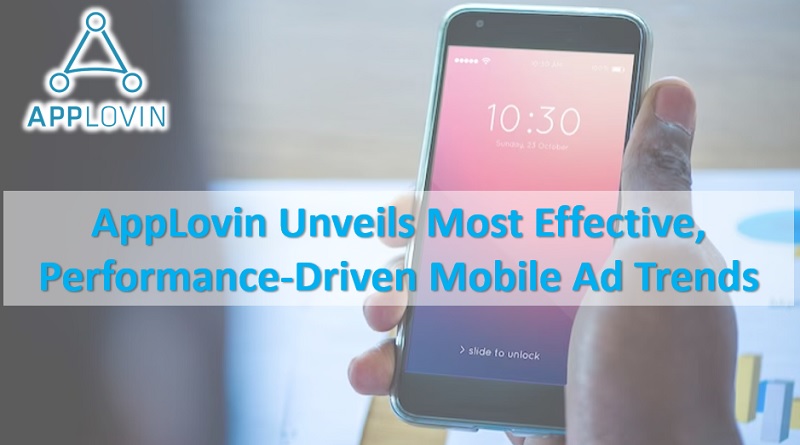 AppLovin, the leading growth platform for developers, has released its first-ever Creative Trends Report 2023, revealing the year's best performance-driven mobile advertising trends. Data-driven reports help mobile app developers and marketers across industries drive more effective mobile advertising campaigns.
AppLovin's in-house creative agency, SparkLabs, has analyzed data from 52.3 billion impressions, 22.4 billion clicks, 267 million installs, and tens of thousands of creators in 2022. This report examines the concepts and variables that generated the greatest impact and his ROI.
"Our goal with this report is to provide marketers and developers insights and inspiration for achieving increased success for mobile ad campaigns,"

"The report is packed with proven performance-driven ad concepts that have generated significant lift for their campaigns by capturing the majority of ad spend."

Katie Jansen, CMO of AppLovin.
Key insights from the report include:
Customization of a character, item or environment encourages engagement, especially amongst match, merge, mid-core, arcade and action titles.
Dramatic story narratives, particularly when characters are victims in perilous situations, allow players to become invested in the game's story, with strategy creatives 155% higher than average.
Voiceover messaging on top of visual content adds dimensionality and works best with genres that rely heavily on showing gameplay footage. In 2022, computer-generated voices took almost a 30% share of all top creatives.
Real-time feedback creates better connections with users, as nearly 50% of all top-performing creatives incorporate mechanics giving real-time feedback to the user.
"Putting the best creative pieces together doesn't always guarantee a win,"

"To ensure that your ads are consistently high-performing, you need a combination of performance-driven analysis and continuous iteration and testing to find an optimal creative strategy for your app."

Katie Jansen, CMO of AppLovin.