Netflix, Amazon and Marriot Bonvoy Top the List of Apps Consumers LOVE – Positioning them for Mobile Growth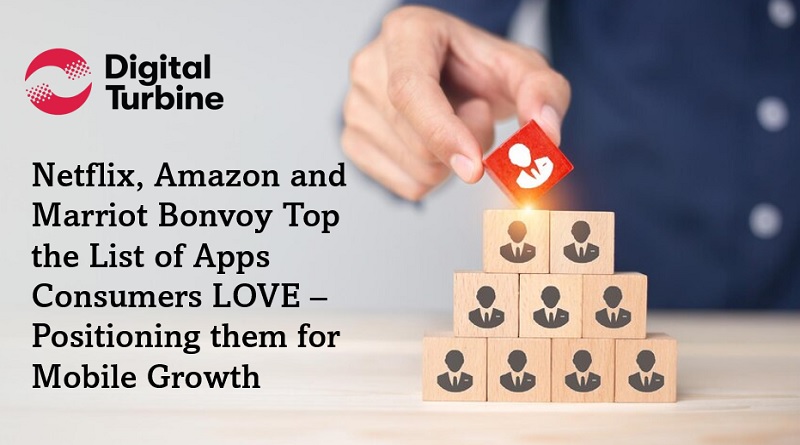 Digital Turbine, Inc., a global leader in growth solutions for the mobile ecosystem, and Apptopia Inc., a leading provider of real-time competitive intelligence, announced today that as part of their ongoing report, BRAG (Brand Relative App Growth) Brand Insights Report has been released. report series. A new report reveals new insights into consumer sentiment towards branded mobile apps across five app categories: video streaming, audio streaming, shopping, social media and travel.
First released in 2020, the BRAG Index provides the UA manager and her CMO with fresh insight into how big brands are tackling mobile growth. The report below continues to explore the relationship between brand equity and mobile growth.
Digital Turbine and Apptopia evaluated leading Brand Love, Brand Power, and Love Compass apps that measure trends in brand sentiment.
"Not all marketing investments immediately impact mobile growth,"

"That said, our past BRAG analysis has shown the direct correlation between an increase in brand strength and success in mobile growth. The brands we measured outperformed in terms of Love, Power, and Compass, and are primed for outsized mobile growth. Next quarter, we'll find out who executed against their potential. Equally important, BRAG will reveal who outperformed without coveted brand metrics."

Greg Wester

, CMO at Digital Turbine.
In partnership with GWI, Digital Turbine surveyed over 1,000 US consumers and published the results. This shows that consumers prefer branded apps.
Love for a brand is measured by the strength of positive feedback, the willingness to endorse it, and the trust of those who know the respective app. Brand strength measures how well a brand attracts consumers to install an app. Love Compass also measures changes in opinion. Specifically, the number of users who reported improving or deteriorating their opinion in the last 90 days.
The leaders for each metric across the five categories are:
Brand Love

: Netflix, Amazon Music, Amazon, Life360, and Marriott Bonvoy

Brand Power

: Prime Video, Amazon Music, Amazon, Messenger, and TripAdvisor
Love Compass: Paramount+, TouchTunes, Fetch, BeReal, Marriott Bonvoy
Other notable app leaders include Fly Delta, which ranked #2 for Brand Love and #3 for "Love Compass" in the Travel category, and Paramount+, which ranked Love Compass the highest in the Streaming Video category. This didn't work. Consumers recommend apps to others.