Optimove Launches OptiText, Adds Personalized SMS to its Customer-Led Marketing Platform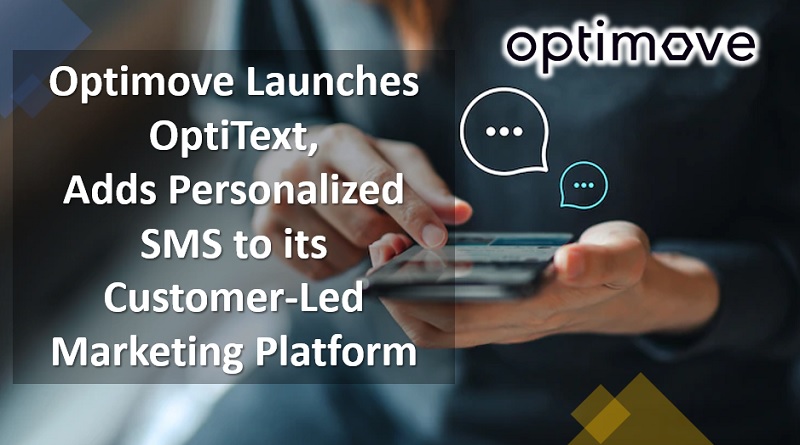 Optimove, the first customer-centric marketing platform, announced the launch of OptiText, a native and personalized SMS engine that enables marketers to use rich customer data to create, Organize and measure hyper-personalized SMS campaigns at scale.
OptiText complements Optimove's suite of all-in-one marketing channels, which span web, social, mobile, and email, allowing marketers to navigate complex customer-driven marketing journeys. leading row without leaving the platform. Customer-focused marketing, which starts with the customer and not the product or campaign, increases customer lifetime value by 33%.
According to a recent study by Deloitte true 1:1 personalizing the customer journey can significantly increase brand satisfaction; However, more than 50% of consumers say that brand personalization efforts are not targeted. With OptiText natively integrated into Optimove's omnichannel solution, marketers can confidently send personalized text messages that harmonize with other marketing channels without the risk of misleading consumers. overwhelmed or send mixed messages.
Additionally, marketers benefit from using OptiText in the following ways:
Delivering hyper-personalized SMS campaigns using first-party client data: purchase history, demographics, and qualities predicting future behaviour.
Keeping customers informed in real-time: With real-time promotional and transactional SMS messages, marketers can deliver in-the-moment communications that contextualize promotions and generate results.
Optimove's unified platform: allows you to build, orchestrate, and monitor SMS campaigns in conjunction with other channels while saving a significant amount of time.
"This is a huge step forward in our quest to become a one-stop shop marketing platform,"

"Data shows 98% of text messages are read within the first two minutes. With OptiText, marketers can utilize yet another impactful, immediate, and measurable channel to communicate with their consumers. Marketers can now serve hyper-personalized SMS campaigns while ensuring journeys are orchestrated, harmonious, and complementary to other marketing channels. The bottom line is a more impactful, effective, and enjoyable customer experience that strengthens customer loyalty."

Shai Frank

, VP of Product at Optimove.
OptiText is the latest addition to Optimove's customer-focused marketing platform. Following the acquisition of Kumulos in March 2022, Optimove launched OptiMobile, a personalized mobile marketing solution. In July 2022, the company purchased Graphite, a digital experience platform focused on creating personalized experiences across digital channels in real-time.