Tatari integrates marketing data from Experian, enhancing purchasing and measurement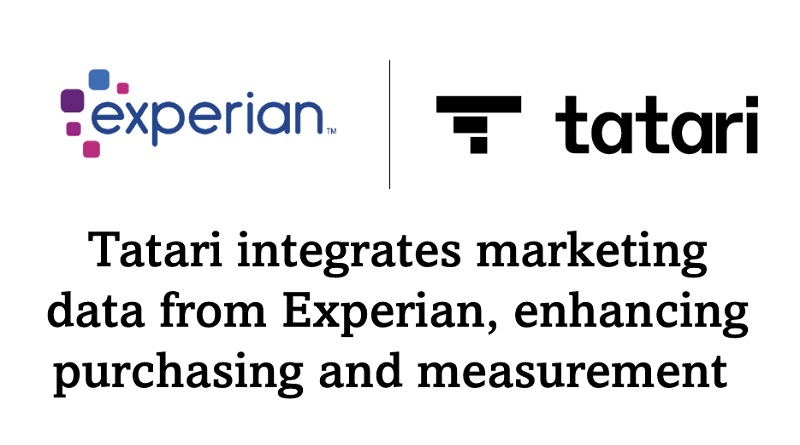 Tatari, a leading platform for buying and measuring online and linear TV advertising, has announced the integration of Experian's marketing data into the Tatari platform. With access to Experian's audience ecosystem to better understand consumers, Tatari is consolidating its data and insights to further modernize TV advertising for brands, agencies, and brands. agent and publisher.
More than 200 brands and agencies use the Tatari platform to buy and measure TV ads. These ad buyers now have easy access to Experian's Lifetime Unit Identifier (LUID) to better leverage the power of targeted TV advertising and performance reviews.
"When digitally-native advertisers spend on TV, they bring digital expectations of accurate measurement and optimized buying,"

"Experian is one of the most trusted and dependable names in audience data, and working with them ensures that our brand and agency customers have greater access to the insights that prove that TV advertising drives real-world outcomes."

Andy Schonfeld, Chief Revenue Officer of Tatari.
Tatari works directly with big data providers, including audience and viewership insights providers.
"TV advertising is undergoing a massive transformation, as advertisers finally gain the tools needed to prove that their advertising actually works,"

"Tatari has built the infrastructure to power the future of TV advertising across linear and streaming, and we're happy to work with them to help advertisers find their audience and measure the impact of their spend."

Chris Feo, SVP of Sales and Partnerships for Marketing Services at Experian.
Tatari is building the infrastructure to modernize TV advertising for brands, agencies and publishers. Customers include Made In, Daily Harvest, Wpromote and Fubo. Recognized by Business Insider as one of the hottest ad technology companies, Tatari is headquartered in San Francisco with offices in Los Angeles, New York, Israel, and Ukraine.