Giftcloud, a Groupon company, Leverages Tillo's Platform To Expand into the U.S.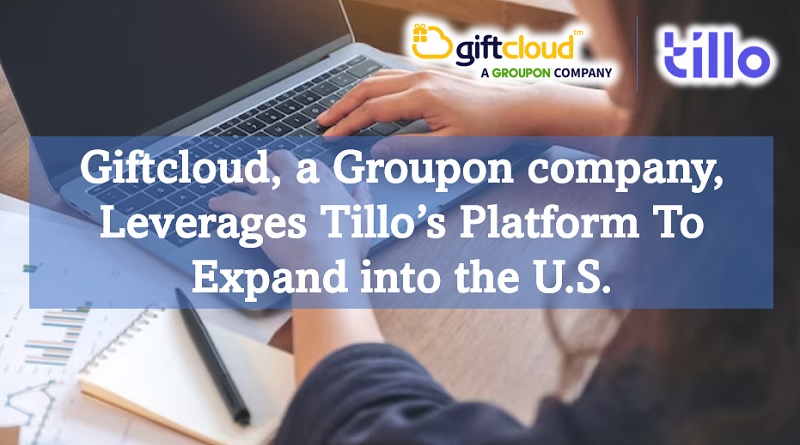 Tillo, the award-winning platform that enables innovators to scale redemption and loyalty initiatives using the power of digital gift cards, has announced that Giftcloud, a Groupon's company and a pioneer in the use of digital rewards campaigns, will use Tillo's innovative platform as it expands into the US market. Giftcloud, founded in 2014 and based in the UK, helps brands develop stronger relationships with their customers through the use of rewards in digital marketing campaigns. . Through its partnership with Tillo, Giftcloud has access to an end-to-end gift card solution that allows them to deliver real-time gift cards on behalf of their customers to their most loyal customers at over 100 large retailers.
Tillo uses the power of digital gift cards to connect consumers with the brands they love. Tillo's award-winning platform, which can be integrated via an API, coupled with a great user experience, makes businesses attractive to new customers and gives existing customers every reason to be. to stay. Its global partner ecosystem enables market leaders like Giftcloud to seamlessly deliver innovative gifting and rewards solutions to the world's top brands in real-time.
"We're excited to work with industry-leading organizations such as Tillo to help our clients develop innovative, data-driven campaigns that enable them to turn one-time buyers into loyal customers,"

"Launching in the United States with Tillo is an important milestone for Giftcloud that positions us to meet the needs of even more brands and their customers across the world's biggest economy."

Stuart Lawrence, Giftcloud Director.
"Giftcloud is one of Tillo's longest-standing partners, having been on our platform for more than five years. I'm delighted that our relationship continues to go from strength to strength. This expansion with Giftcloud into the US market is an ideal illustration of the capabilities and benefits of our platform and ecosystem,"

"We look forward to supporting their growth as they bring their track record of innovation to the biggest brands in the world."

Alex Preece, CEO and Co-Founder at Tillo.