Roku and Best Buy Announce New Advertising & Retail Relationship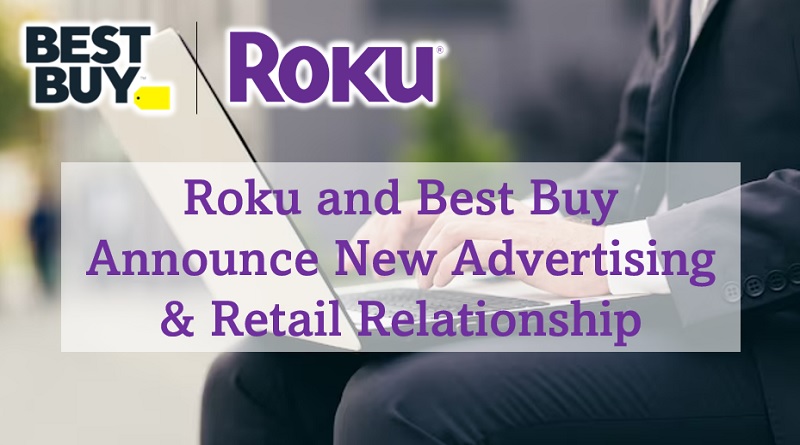 Roku, the #1 streaming TV platform in the US, Canada and Mexico, and Best Buy, the leading consumer technology retailer in the United States, announced the first go-to-market relationship in its advertising and retail businesses. For the first time, Best Buy has partnered with a TV streaming platform to provide first-party data for closed-loop targeting and measurement. Best Buy will also give shoppers exclusive access to Roku-branded TVs.
This year, consumers and marketers are expected to spend more on streaming TV. Together, Roku and Best Buy will create a better TV experience for their customers and mutual partners, including:
Roku Select and Plus Series TVs Exclusive Availability at Best Buy: The first-ever TVs to be designed and made by Roku, the Roku Select and Plus Series TVs are now available in the U.S. exclusively at Best Buy stores and BestBuy.com.
Roku Advertising and Best Buy Ads: Best Buy and Roku will pair industry-leading data to make TV advertising more relevant and performance-driven. Brands will be able to work with Best Buy and Roku to target, optimize, and measure their ads on Roku using Best Buy shopper data to ensure consumers are seeing the advertising content that most interests them.
Best Buy Home Theater Experience: The relationship is kicking off with an in-person, interactive activation at SXSW on March 11. For the first time, Roku will bring its iconic Roku City screensaver to life with an interactive, multi-level activation at SXSW. To the delight of streamers, creators, and advertisers alike, the immersive pop-up will feature a Best Buy Home Theater Experience, showcasing the latest Roku devices available at Best Buy as well as new Roku Originals and featured entertainment on The Roku Channel.
This relationship signals an ambition to accelerate the transition to online TV and retail media. According to eMarketer, by 2022, 82% of US advertisers plan to increase their spending with retail media networks like Best Buy Ads. Consumer electronics brands are among the leaders in this growth. Roku's scale of 70 million active accounts and Best Buy's millions of customers will help advertisers make their marketing more impactful and effective.
"Our goal is to create a better TV experience for everyone,"

"We're bringing together our entire business to build the future of entertainment and advertising — making the TV experience simpler, offering the right marketing, data, tech, and scale to drive real results, and helping win the entire streamer's journey together with Best Buy."

Julian Mintz, Co-Head of U.S. Brand Sales for Roku Media.
"Roku City featuring the Best Buy Home Theater Experience" will be open to the public on March 11-12 from 11:00 AM – 6:00 PM, local time. The pop-up will be located at the Riley Building: 315 Lavaca Street, Austin, Texas.