WeAre8 Launches Australian Advertising Marketing campaign As It Eyes New Zealand Launch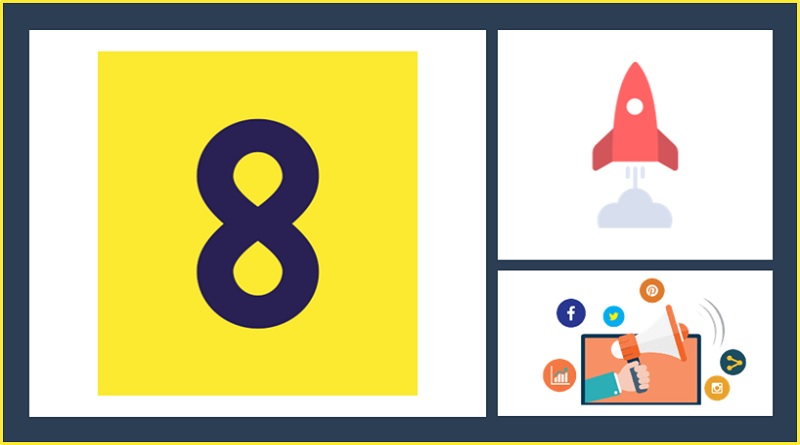 The social media app, which pays users to watch adverts and donates 60% of its revenues to social and environmental causes, has kicked off its first consumer marketing activity and revealed the local celebrity' change makers' who will add content and clout to the app.
WeAre8 Australia CEO Lizzie Young told The Drum the campaign is targeting an audience it calls "optimistic change champions" to attract up to 2 million Aussies to the app.
"There are 2 million people in Sydney and Melbourne who fall within our identified segment of 'optimistic change champions'. They are early adopters, university students, and parents with young children. Our initial target is converting a portion of those 2 million people to the platform as quickly as possible."
"It's too early to talk about how we're going against that, but the curve is going in the right direction every day," says Young.
WeAre8, launched in Australia on 8 August, following its UK launch in April, aims "to be good for the planet, free-from-hate, put money in your wallet and celebrate and champion good in the world in just eight minutes a day."
It is the brainchild of Sue Fennessy, the Australian-born and London-based tech entrepreneur who founded Standard Media Index (SMI). The mission is to create a positive social media environment and revolutionize the $450 billion digital advertising market with an effective, efficient, and transparent model.
Fennessy enlisted Young, a media veteran who quit her role as managing director of local markets and group marketing at Nine Entertainment Company, to take the helm of the Australian operation.
A unique win-win model
WeAre8's model pays users – or citizens as WeAre8 calls them – to view ads and answer a few questions about them for eight minutes a day. Citizens can use the money they earn from viewing the ads to invest in charities or causes through the app or keep the money for themselves, "there is no judgment," says Young.
The app partners with groups and organizations (it calls these impact partners) across eight different areas: climate equality, poverty, health, peace, water, education, and animal welfare.
The advertising model means brands only pay for a fully completed video view, so there is zero wastage and high engagement. WeAre8 Australia launched with nine brands already on board: Suncorp, SBS, Dove, Rexona, Omo, Virgin Australia Airlines, Nature's Own, Coles and Telstra, and Young says more announcements are imminent.
"We're asking brands to move 6.5% of their social media spend to us, but there's no risk in that because we only charge them for a fully completed video view," says Young.
"We're asking brands to allow us to demonstrate what we can do in an environment that does the right thing by people and the planet. There's also no wastage for brands from a financial perspective because we only charge at the end of the fully completed video view. We can guarantee engagement and attention and that's important to brands."
"We had nine launch partners, who, we talked to about the fact that we were starting, not from zero in Australia as we did have some organic citizen growth happening on the platform, but certainly a very small audience. But their view was that they wanted to be there from the beginning and scale with us. And I think because there's no risk for a brand."
WeAre8 reports a 98% opt-in rate for advertising and a 100% view-through rate. In terms of ongoing engagement, WeAre8 has a 37% click-through rate. Young notes a case study for Nike UK, which received 180,000 free text responses to the advertising.