Mediahub Selects Unruly as a Preferred SSP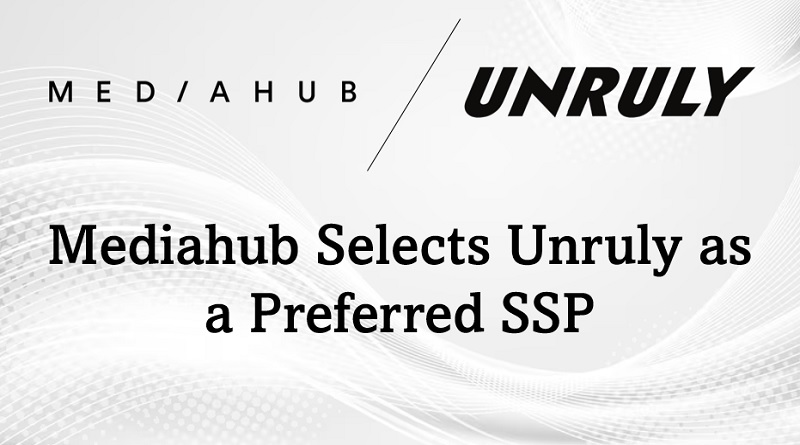 Unruly, the leading multi-channel advertising platform specializing in connected TV ("CTV") and video, today announced that it has been selected by award-winning media company Mediahub as its Offers sub-platform priority ("SSP").
As the advertising landscape becomes more complex and evolves at a faster pace, Unruly underpins Mediahub's efforts to provide clients with clear value for their media spending and accountability for their media spending. efficiency.
Unruly is partnering with Mediahub to provide key benefits, including:
Unruly's prioritization of direct publisher relationships optimizes the supply path across omnichannel supply so that advertisers can take advantage of one-to-one as well as strategically curated private marketplaces ("PMPs") to reach their objectives, with greater transparency into media spend
Unruly's unique and differentiated data across automatic content recognition ("ACR"), audiences and contextual, offering distinct and holistic ways to reach audiences
Access to Unruly's award-winning in-house creative studio with the capabilities to build original assets or optimize an advertiser's current creative for specific formats and distribution channels
As the SSP within Tremor International's end-to-end technology stack, Unruly's holistic view of the programmatic supply chain enables the platform to streamline collaboration between agencies, clients and demand-side platform ("DSP") partners
"Mediahub is excited to formalize our preferred partnership with Unruly. Having worked closely together already, we know Unruly brings our clients valuable inventory across multiple channels, including CTV, as well as mobile and web for video and display,"

"Unruly's supply is complemented with unique direct publisher inventory sources, access to ACR and content-level data, and in-house creative studio capabilities to build custom assets – all of which enable our clients to efficiently activate at scale."

said Phelan Pullen, SVP, Programmatic, Mediahub.
"Unruly provides more value to advertising campaigns across every element of the supply chain, from creating opportunities for targeted reach and prioritizing direct relationships with publishers, all the way to optimizing the creative on that supply to perform programmatically,"

"Agencies like Mediahub are capitalizing on these specialized offerings to reinvent how advertisers reach consumers and how they measure success."

Steve Sottile, Chief Revenue Officer, Unruly.