DCM Launches Personalized Video Solution to Meet Growing Demand for High-Impact Personalized Content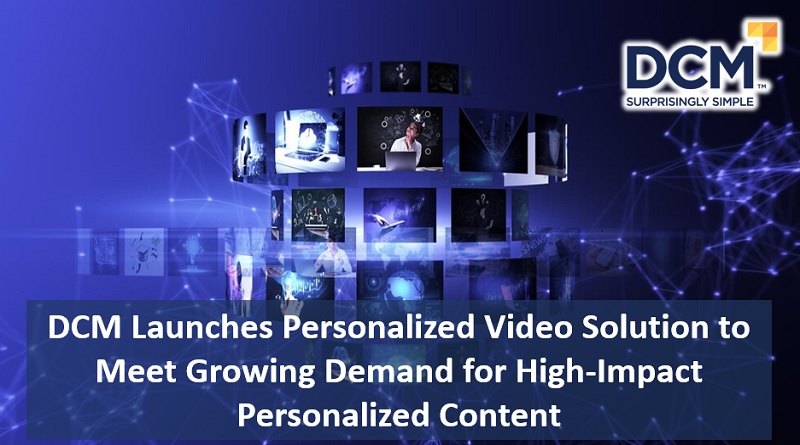 DATA Communication Management Joint Stock Company, a provider of business communications and marketing solutions to businesses across North America, announces the launch of PRSNL™, a personalized video content platform Top humanization with full service.
PRSNL covers all aspects of custom video creation and distribution, from strategy, storyboarding and creative development to publishing, archiving and distribution. Large-scale personalized video distribution is a complex process that requires expertise, technology, and resources that are not readily available to most businesses. Personalization also involves the use of customer data, which requires strict attention to privacy and security.
PRSNL builds on DCM's 25+ years of experience developing and executing personalized messaging for some of the largest corporations in Canada.
"With our proven expertise in storytelling across print, email, and social, personalized video is a logical evolution for DCM and our clients. It's another exciting way we can help brands leverage technology to better connect with their audiences."

"PRSNL addresses the complexity of video production head on with a simple, integrated solution that enables companies and brands to achieve personalized consumer engagement at scale,"

DCM President & CEO Richard Kellam.
Consumer expectations for personalized omnichannel communication have never been higher – according to McKinsey, 71% of consumers expect companies to offer personalized interactions. And across these channels, video has become a leading way to engage consumers and help them understand brands, products, and services. As a result, marketers are investing more in video content.
Still, 63% of digital marketing leaders continue to struggle to deliver personalized experiences, according to Gartner. This is especially the case when creating video content; As HubSpot noted, key challenges include lack of time to create content, difficulty developing a video strategy, and insufficient budget. Simply put, personalized videos can drive strong audience engagement, but producing and distributing them can be extremely challenging.