Semrush Acquires Leading Marketing Education Company Traffic Think Tank to Bolster Semrush Academy Offering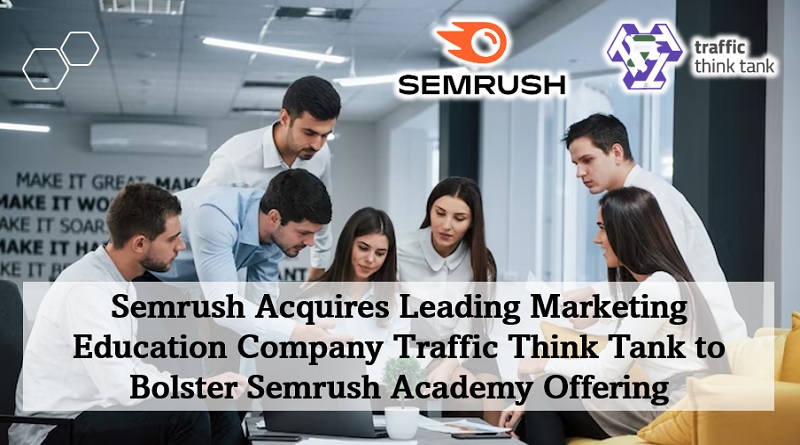 Semrush, a leading SaaS platform for online visibility management, today announced the acquisition of Traffic Think Tank (TTT), a leading marketing education and premium content syndication community. by and for global leaders in marketing and growth.
With over 300 hours of content from more than 90 industry experts, TTT Academy is one of the most highly regarded resources for digital marketing education in the world. In addition to its extensive content library, TTT offers a members-only community of Slack experts to help answer questions, act as a listening board, and connect with other colleagues in the marketing industry. global market.
"The acquisition of Traffic Think Tank marks another milestone in Semrush's commitment to assist marketers at every step of their career journey,"

"Enhancing your brand's online visibility has never been more important, and we are simply delighted to bring TTT and its incredible content and culture to Semrush."

Andrew Warden, Chief Marketing Officer of Semrush.
Traffic Think Tank was started in 2017 by a small group of marketing professionals looking for like-minded marketers facing similar challenges. In just three months, the community has grown to more than 300 people and offers on-demand teaching hours. In 2020, the private Slack community hosted nearly 1,000 people, facilitating real-time Q&A sessions with some of the greatest minds in the industry. As of February 2023, TTT offers over 300 hours of educational videos, on-demand courses, and tens of thousands of posts per month.
"Semrush is the go-to platform for savvy digital marketers whether they're starting their journey, upskilling, or advancing their expertise, so naturally we are thrilled to join the Semrush family,"

"We decided to join Semrush because of their world-class suite of products and relentless focus on making marketing easy and more effective for their customers. The wealth of knowledge of our TTT experts and our expansive content library will further enhance the Semrush Academy to provide new training for marketers and continue improving existing modules."

Matthew Howell-Barby, Co-Founder, Traffic Think Tank.
The acquisition of TTT allows Semrush to expand its academy so marketers can learn new skills and hone their skills by reaching communities focused on SEO, content marketing, networking social media, PR and PPC, supported by founders and thought leaders in the industry. The TTT Mission will be maintained, and its community will be able to benefit from content and resources produced by Semrush Academy, as well as new content and additional sessions from industry experts. This is the most recent acquisition for Semrush, preceded by Backlinko in January 2022, adding globally respected SEO training resources to Semrush Academy, including founders Brian Dean and colleagues.
By joining Semrush, TTT co-founders Matthew Howells-Barby, Nick Eubanks and Ian Howells, along with a number of additional consultants, will contribute to the continued growth of the Semrush community by developing the Semrush community. develop original content for Semrush Academy, and continue to participate in the Community Discussion TTT.
Semrush has the ambitious goals of establishing a personalized and comprehensive online training platform, setting a new benchmark for digital marketing education, and aiming to provide a premium experience for businesses. marketers globally.