Zembra Chosen for Newchip's Intensive Global Pre-Seed Accelerator Program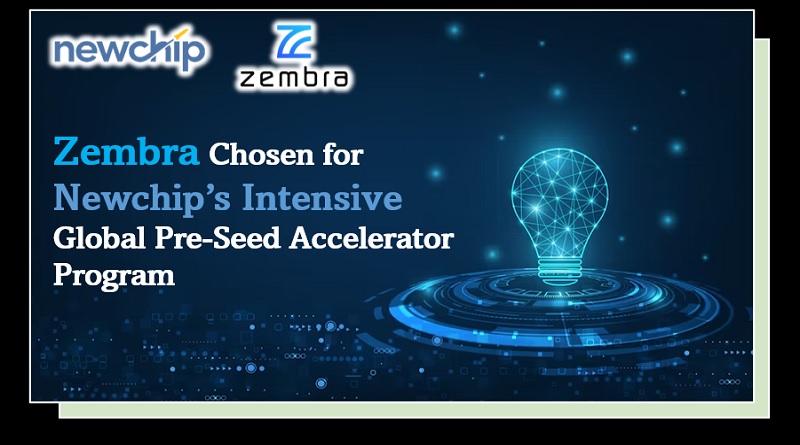 Zembra, an emerging data aggregator for the online reputation management industry that addresses the challenges of collecting and monitoring business reviews and comments on social media, has been accepted to participate in the Global Accelerator Program renamed from Newchip. Designed to provide all the skills and tools founders need to fund, build, and rapidly grow their businesses, previous Accelerator teams have averaged over 17.5 times the average grant amount. The all-digital, equity-free accelerator has helped over 2,500 founders from over 50 countries and 250 cities raise more than $2.2 billion in funding with an estimated portfolio of over $9 billion.
"Newchip evaluates a diverse number of companies across all industries from around the world, selecting a small percentage to join our accelerator,"

"This strict selection process makes us an ideal partner for investors looking for promising start-ups. Software companies like Zembra can scale quickly with proper funding and guidance. We are excited for Zembra and believe they will do well at Newchip."

Brian Lee, Head of Product at Newchip.
"Being accepted into the Newchip Accelerator, we are excited to expand our spectrum of opportunities and access a large pool of experts from diverse backgrounds and a network of well-versed entrepreneurs",

"With talents and resources, we can target a worldwide audience and scale our platform in preparation for our next phases of the roadmap that will incrementally guarantee Zembra a seat with the giants of data"

Khoubeib Bouthour, CEO & Founder of Zembra.
Zembra is a major social media and reviews collector to support online reputation management efforts through APIs at scale. Founded by seasoned and versatile engineer Khoubeib Bouthour, after 20 years of experience in the Air Force and several years as a principal engineer, contributing to building one of its leadership experiences and online reputation SOCi's main line in the banking and insurance industries. Zembra's mission is to make online reputation data accessible to everyone in the form of a database. Whether your goal is to monitor your online presence or generate competitive analysis reports, Zembra makes data collection seamless and hassle-free while protecting the market in terms of profitability, efficiency, and profitability productivity and quality.